[su_heading]

Best Selling Straw Bags

[/su_heading]
It is festival season and just about that time of the year when  beach goers work off their torso to flaunt their best fashion accessories. Every season, the fashion world introduces a new bag trend for fashion lovers to add to their growing collection.Today, I have selected seven of some of the best woven straw bags expertly handcrafted by skilled artisans.
The bags I have selected are based on style & durability. They are perfect to compliment your festival outfit, perfect for a long weekend or a beach getaway. These basket bags are a must-have trend this season. Growing up, straw bags did not seem as luxurious as they seem now, partly because I was surrounded by relatives who weaved these bags and I did not fully appreciate the value of the bags even though I was fully mesmerized by their expertise with little or no instruments to ease the process.




Mango Woven
Totes Straw Beige Large Casual Double Handle Bags. 28 USD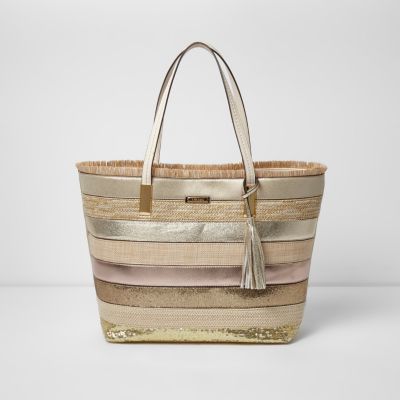 River Island Womens Gold metallic woven straw beach tote bag £35


Sam Edelman Sierra Straw Tote – Beige USD 198
From the demilune shape to the woven and tasseled trims to the optional strap, we're loving this straw tote for summer. Best part? You can unwrap the skinny scarf and tie it in your hair or around your neck-how chic!


Orla Ombre Straw Beach Bag £35
Carry off effortless holiday styling with our Orla ombré beach bag. Woven in straw with a tonal gradient, this large shoulder bag features an inner zip pocket, magnetic closure and chic pom pom charm


MANGO Straw clutch £17.99


Herringbone weave straw tote bag from Glamorous with bamboo ring handles and colourful pom pom detailing.
Glamorous Pom Pom Straw Weave Bag
£31.00




Which is your favorite of all them beautiful woven straw bags? you can click on the highlighted links for more information and also let us know in the comment section below what you think of the bags.
Hugs-Mammypi
[su_button style="3d" background="#86bcf3″ color="#0f2f05″ size="6″ center="yes" icon="icon: laptop" icon_color="#547745″ text_shadow="1px 0px 0px #253724″ desc="FASHION,LIFESTYLE,TRENDS" rel="lightbox" title="FASHION,TRENDS,STYLE"]www.mammypi.com[/su_button]
Your Opinion Counts
What Others Said
Powered by Facebook Comments